General Furniture FAQ
Some practical info on our wood Amish Furniture.
What is Amish Furniture?
The term Amish Furniture refers to any solid wood furniture built by Amish Craftsmen. The Amish are known for their craftsmanship and attention to detail as well as a quality standard of furniture that can be passed down from generation to generation. At Shipshewana Furniture Company, we are selective of the Amish builders that we use. We want to take the term Amish Furniture to the next level by providing the best in the area.
What makes Amish Furniture Different?
Amish craftsmen are widely known for their quality of work. Amish furniture is an investment that will last you a lifetime and become an heirloom piece that can be passed down for generations. Solid Wood construction means that the furniture is built to withstand daily wear and last for generations.
Are there different styles of Amish Furniture?
Amish crafted does not have to refer to one specific style. We offer a variety of categories including Traditional, Transitional, Contemporary, Modern, Mission, Shaker, and more.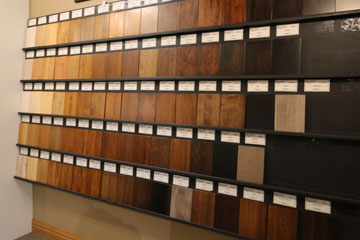 Which wood is best?
We have many hardwoods to choose from including rustics, live edge, and reclaimed woods. Some have a long flowing grain, while others have a shorter grain. Some woods (i.e. Brown Maple and Hickory) show a greater degree of stain variation than others. Some woods are harder than others (see our wood hardness page) and are better suited for high-traffic areas of the home. Some woods will darken more quickly than others when exposed to prolonged periods of direct sunlight. With each wood, you have a choice of stain color.
Where is Amish Furniture built?
All of our solid hardwood furniture is built locally by Amish craftsmen in Shipshewana and the surrounding areas. We use small Amish workshops that are able to specialize in different types of furniture – ensuring that you get quality pieces every time.
How long will it take to build my furniture?
Hardwood Furniture - 12-24 weeks (varies by builder, and in a few cases can be up to 32 weeks) plus delivery* Quick Ship Hardwood Furniture - 7-8 weeks plus delivery* Outdoor Furniture - 12-14 weeks plus delivery* Smith Brothers Furniture – 10-12 weeks plus delivery* * Each piece of furniture is handmade for you with your choice of wood and stain color, and not mass produced in advance. Because of the individual production and our personal attention to quality and detail, our lead time depends on several factors and is calculated from the time the order is placed. There are certain times of the year that lead times may be longer because of increased volume, and holiday shutdowns. Please allow 2-3 weeks after completion for deliveries within our region and 3-4 weeks after completion for deliveries outside of our region. For customized furniture, please allow an additional 2-4 weeks. Please note that all lead times are approximate, and not guaranteed. Lead time estimates are based on our previous experience with our builders.
When can I check status on my order?
Current lead times have been extended due to the increased demand for locally made furniture. We are unable to check status on your order unless it has gone past your estimated lead time. For any lead time inquiries we ask you email our sales team so we can provide the most efficient service for you at sales@shipshewanafurniture.com.
Can the furniture be delivered?
We offer delivery options to the continental United States. Regional deliveries will be done by our trucks and include assembly. Long distance deliveries are done via 3rd-Party Carriers and you have the option of curbside or inside delivery. Since our furniture does not come boxed or wrapped we use blanket wrapped delivery companies that specialize in packing and delivering furniture. Since our hardwood furniture is preassembled, it cannot be shipped with standard carriers such as UPS.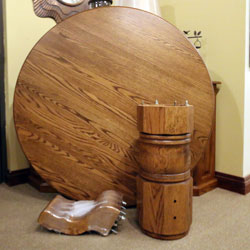 Will the furniture be assembled when I get it?
Amish built furniture is completely assembled in the workshop to ensure quality. Most pieces will arrive fully assembled; however some pieces may be partially unassembled due to size and ease of delivery (i.e. Table tops taken off of the bases). There are options to have your furniture put back together once it is delivered.
What is the ordering process?
In order to place an order with Shipshewana Furniture Co, you will need to pick out your pieces, a wood type, and a stain color. You can then place your order online or through our Customer Service Department through email or by giving us a call. A 50% deposit will be required to place the order and the balance will not be due until your furniture is done. When you place an order online, be on the lookout for confirmation emails with more information in the days following your order!
Do you offer customization options?
Since our hardwood furniture is locally built, we are able to offer some customizations. You may see that there are options listed on our furniture. Things like changing the shape or size, using two tone finishing or adding different drawer slides are possible when you buy Amish furniture. If you have questions about customizing a piece, or you would like to request a modification to an existing piece, give us a call. We would be happy to quote that change for you.
How does pricing work on the website?
Our products are priced based on standard options. Since our pricing starts with the base price, it will reflect the smallest option, least expensive wood type, without any upgrades. Our interactive options section will allow you to see the updated prices as you select through options.
Do the Amish build something completely custom?
Our Amish craftsmen prefer to start with their own designs as a reference point. We ask that you start with an existing piece closest to what you are looking for and we can make modifications from there. We are usually able to accommodate specific requests. To inquire about a customization, call or email us for a quote.
How do I know what my ordered furniture will look like?
Every piece of solid wood furniture is unique. This is due to different grain patterns that can be unpredictable in hardwoods. Knowing the characteristics of the wood type that you are choosing will help give you an idea of what to expect. You can also expect that your furniture will be built with quality and attention to detail that you will not find other places. Each wood type is also available with a variety of stain colors. Please keep in mind, the image you see may not be a perfect representation of that stain color.
What type of finish is used on the furniture?
Our Amish furniture is finished with a two part catalyzed conversion varnish. This finish is a professional grade and provides a durable and easy to clean surface for your hardwood furniture. The wood may change color with age, but the top coat will not yellow or flake and can resist moisture and light scratching.
How do I care for my Amish Furniture?
For solid wood furniture that has been finished with the two part catalyzed conversion varnish, you can simply use warm water on a soft cloth and wring it out. Dust by following the grain pattern of the wood. Avoid using furniture polishes that contain silicones and waxes.
Can wood still move if it was kiln dried and properly finished?
Yes, wood is a product of nature and is a living organism and can "breathe". Wood that is kiln dired to 6% (industry standard) can take in moisture up to levels of 12% if placed in a high humidity environment. For further research on this please read this document from Purdue: The Shrinking and Swelling of Wood and Its Effect on Furniture.
What design considerations should I think about when making furniture decisions?
Consider the size of the room that the piece will be going into, and the presence that you want that piece to create. For example, if you have a dining room with large windows, consider getting shorter dining room chairs or benches to not block the view. If you have high ceilings, consider getting taller bookcases to make a statement and draw the eye upwards. Also consider the function of the piece. If you are planning to put component boxes in a TV stand, opt for glass doors instead of wooden ones so you can still use your remotes.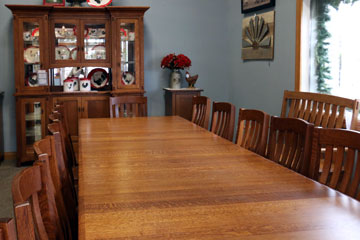 What size table do I need to seat 10 people?
How big are the table leaves?
For most of our tables the leaves are 12" – however that can vary by table style. Please refer to an individual table for more information about that style.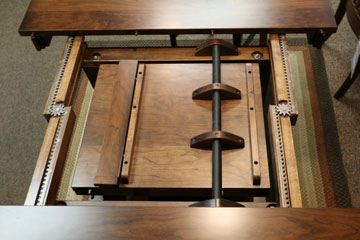 What is a butterfly leaf?
A butterfly leaf is a unique type of leaf that folds in half and stores right inside the table for easy access. This is available on select tables.
Will adding leaves to a table compromise the stability?
Certain tables can accommodate more leaves than others. Our Amish builders create guidelines for which tables can have more leaves added. They are the experts on their products and have high standards of stability. If a certain table is only available as a solid top in certain sizes, it is likely because adding leaves will compromise the stability. As long as you stay within the guidelines laid out by our Amish builders for each table, your stability will remain intact. Some styles may require additional support legs after a certain length.
Can I order a California king size bed?
If you do not see a specific bed size listed, please contact us for availability.